The Baseball Wristband Revolution
As a way of saying "Thanks for stopping by" I'm going to give you this book for FREE!  Simply enter your name and email address below and I'll email it to you.
I hate spam too. I promise to NEVER send you any!
Frequently Asked Questions
Is this a one-time fee, or are there ever any renewal fees?

When you purchase Never Miss A Sign, you are buying a Lifetime License that allows you personally to use it for the rest of your life.  There are no hidden fees or extra charges.  $174.95…Lifetime Access!

Do I get anything in the mail?

No.  Never Miss A Sign is in the cloud so once you register you have Immediate Access.  You don't have to wait to receive anything in the mail.  Simply click Login and you will be asked to enter your username and password.  Once you do, you're in!

Can I use the wristbands for offense and defense?

Yes!  You can generate completely custom wristbands for baseball or softball that allow you to use signs for offense, defense, or both…whatever is best for your team!

Where do I get the actual wristbands?

We are a one-stop-shop for everything you need…including wristbands!  We sell 3 different sizes and 6 different colors so we're sure to have exactly what you need.  Click here to view our wristbands.

What type of payment do you take?

All orders must be placed through this website using a credit card.  PayPal handles the credit card processing, but you do not need a PayPal account.  Simply choose "Pay with Card" and you'll be set.

Are there any minimum requirements for my computer?

No.  If you have an internet connection and a printer to print the cards that's all you need.

Can I easily change the size of the card that is printed?

Yes!  Once you have generated your cards you simply type the print size (ex. 2.75″ by 4″) and they will print that size.  This guarantees that the cards will fit into the wristband's window whether you're using adult, youth, or women's wristbands.

Do you accept school purchase orders (POs)?

No, the only method of payment that is accepted is an order placed on the website using a credit card.  One of the ways I'm able to keep my costs so low is by keeping everything digital (think Esurance.com).

Who owns the Lifetime License, the school or the coach?

The Lifetime License is owned by the individual that purchases Never Miss A Sign and it is non-transferrable to another individual.  So, if you purchase it while coaching at one school/university, and move to another, you still own the Lifetime License NOT the school you previously worked for.  So, once you buy it, you have it forever!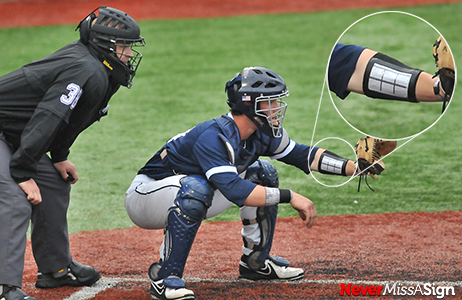 If you have a question that wasn't answered on this page you can either try watching the "How it Works" video or by contacting me directly here: Contact Xan Barksdale
Why Choose Never Miss A Sign?
"Tremendous software that allows me to quickly and easily manage the system for our entire staff without building a ton of templates."
-- Scott Brown, Vanderbilt