The Baseball Wristband Revolution
As a way of saying "Thanks for stopping by" I'm going to give you this book for FREE!  Simply enter your name and email address below and I'll email it to you.
I hate spam too. I promise to NEVER send you any!
How It Works...Software Demonstration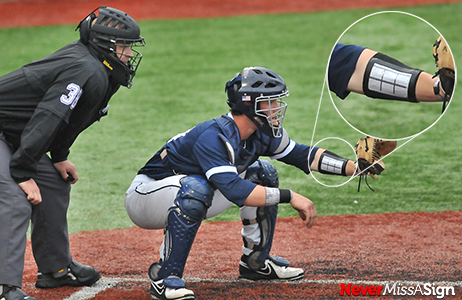 Please watch the video above for a detailed look at exactly how the Never Miss A Sign works.
If you have additional questions about the software before your purchase please email me.
You can also view additional instructional videos by logging into the members area if you are already a Never Miss A Sign user.
How It Works...Using Wristbands in a Game
So, now you know how to use the Never Miss A Sign software to create baseball and softball signal wristbands, but let's make sure you know how to actually use them in a game!
You can use signal wristbands for offense or defense, but for this example we're going to use them for defense.  You will see exactly how a pitching coach would relay pitches to his catcher:
Step 1: Coach finds a play/signal on his Coach's Sheet
The pitching coach in the dugout decides that he wants to call a Changeup.
He looks at the printout he has in the dugout and chooses one of the 3-digit codes for Changeup.
For this example we will say that he chose "3, 1, 2."
Step 2: Coach relays the coded signal to the player(s)
The coach will relay the signs to the catcher using either hand signs (recommended) or by using verbal signs.  For this example the coach would signal "3, 1, 2", or use the verbal signs "Three, One, Two."
Step 3: The player finds the signal on his/her wristband
The catcher will first find the first two digits (3, and 1) in the correct horizontal row.
Once he locates the correct row, he will find the vertical column that corresponds with the third digit (2).
Here, you will see that the box says "CH" because that is the code that the coach selected for Changeup.
Step 4: The player(s) execute the play
The catcher will now call a Changeup to the pitcher and the other team has no idea what "3, 1, 2" means!
Why Choose Never Miss A Sign?
"Tremendous software that allows me to quickly and easily manage the system for our entire staff without building a ton of templates."
-- Scott Brown, Vanderbilt